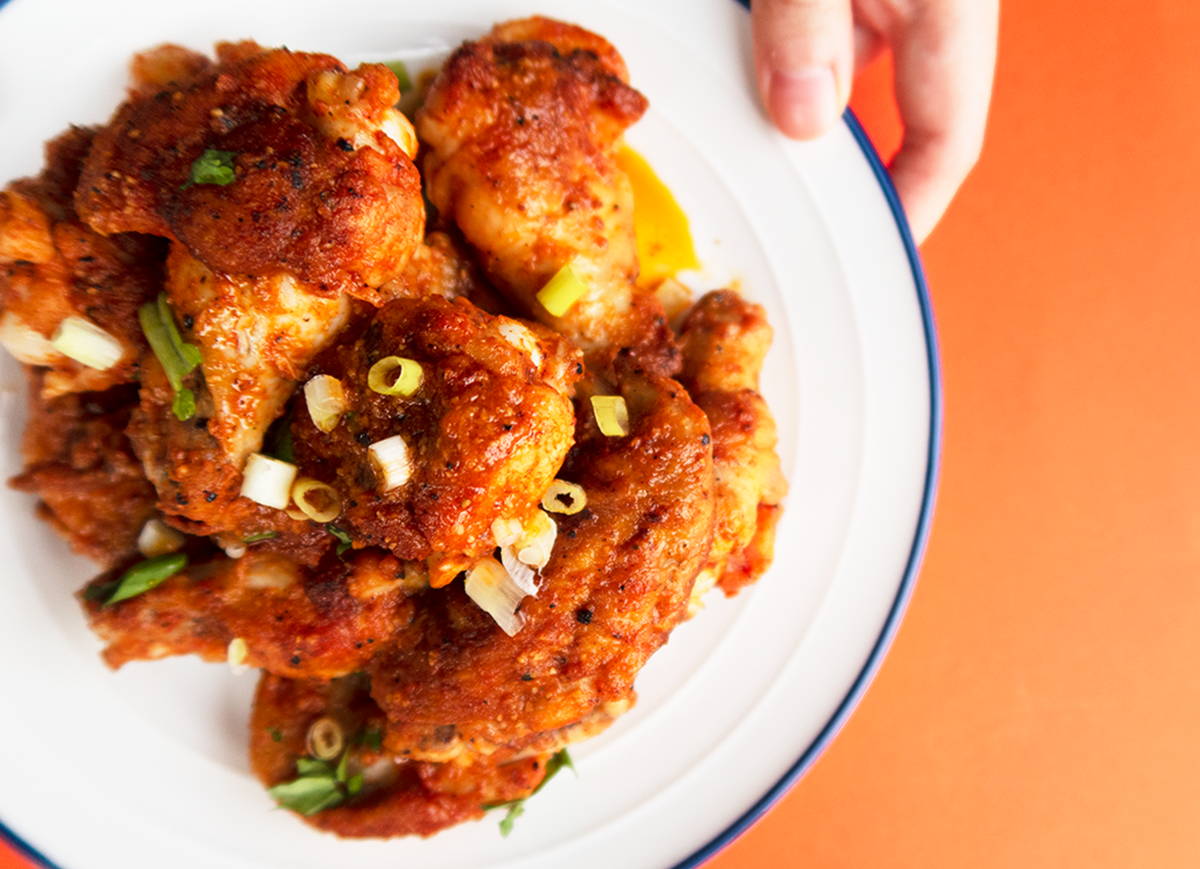 - 1 kg of chicken wings (drumettes/flats)

- 3.5 Tablespoons Mango Hot Sauce
- 2 Tablespoon butter or neutral oil
- 1 teaspoon Garlic Powder
- 1.5 tablespoon rice vinegar
- 1 teaspoon paprika or gochugaru or red chili/cayenne (depending on if you want extra spice)
- Fresh Cracked Black Pepper
- 1 tablespoon of neutral oil for Air Fryer or Oven or pan fry
- 1 tablespoon baking powder

- 2 teaspoons kosher salt
- 1 teaspoon freshly ground white pepper
- 1 teaspoon paprika
- Scallions
- Cilantro (cilantro offsets the mango nicely in photos plus provides a great taste)
1. Pat wings dry if not doing step above for crispy wings, and coat in dry spices and 1 tablespoon of canola or vegetable oil
2. Place in Air Fryer at 180C for 12 minutes (make sure they do not touch)
3. Flip after 12 minutes
4. raise temp to 400C and cook for 6 minutes to get Crispy (if doing first step, may not need this step)
1. wings dry if not doing step above for crispy wings, and coat in dry spices.
2. Heat pan with 1 tablespoon oil on medium heat until oil begins to simmer.
3. Place coated chicken wings onto pan into single even layer, do not crowd pan or chicken will steam and not fry making rubbery skin
4. Cook wings on one side until they release from bottom of pan (roughly 4-5 minutes), may need to help some come off, but do so gently as you may tear skin.
5. Once one side is cooked, turn wings over and cook another 4 minutes rotating wings to ensure even cook on all sides. adjust heat up/down as needed.
6. Note - If spices begin to turn black heat is too high.
**For Sauce:**

1. Place all ingredients into pan on medium/low heat, whisk together, and cook until sauce is simmering.
**To Coat Wings in Sauce:**
1. put wings into bowl and add sauce on top to coat. use tongs/spoon/tossing of bowl to evenly distribute sauce on wings.